Case study
Indigo - website with booking system, email marketing & crm
Indigo is a leading provider of de Bono and other training workshops both in the UK and internationally.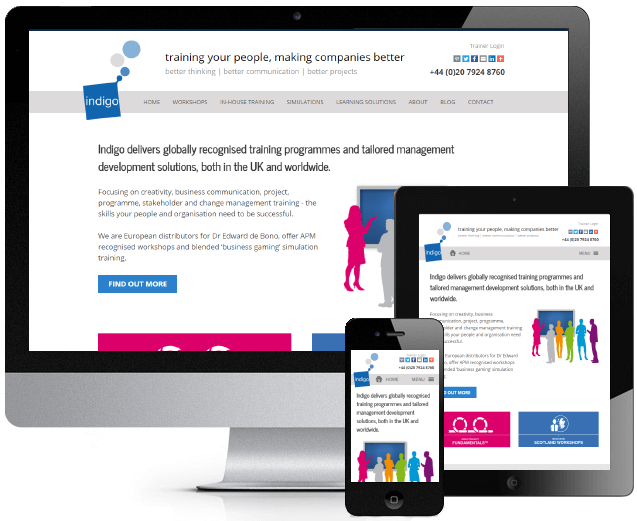 Visit the website
Brief
Our latest project for Indigo, a long standing client, was to overhaul its main website, to offer a refreshed and easy to use front-end for users, and to provide a bespoke course management, client booking and payment system that automates previously manual tasks.
Services
UX Design
Visual Design
Web Development
Systems Development
Solution
After analysing the user journey and data from analytics, we built an interactive wireframe of a proposed new architecture - this was done for both the front end and back end admin system.
Working with the client over several sessions, we were able to refine the wireframe to a point where both parties were happy with the new structure, giving us a starting point for building the new site.
Adding fidelity to the wireframe, we were able to illustrate different structures and layouts simply and easily, helping us to refine specifications before commencing the development. This saves a great deal of time and potential re-working in having to change things at a later stage.
From the wireframe we developed a new design and UI for the site, focusing on simplicity and clear calls to action.
Bespoke CMS
Both front & back ends of the site are managed via a CMS tailored for Indigo's requirements, enabling Indigo to manage the entire site content as well as delegate bookings.
For workshops, Indigo can manage all the details displayed to clients, such as course content, brochures, prices, locations etc. Course dates can be added, along with locations and venues. A discounting system enables Indigo to apply individual discounts to specific dates if required.
Delegates can pay for workshops via invoice or online. After booking, the system automatically emails confirmation along with workshop details, venue details and directions. A few days prior to a course, the system automatically sends an SMS reminder to delegates.
For administrators, the booking system gives a complete overview of all bookings with running totals of revenues per workshop. Admins can drill down to individual delegates to view their booking details and payment, and they can add notes to individual bookings. Delegate lists can be easily printed prior to a workshop and delegates can be moved between dates or workshops if required.
A new trainer portal enables Indigo's independent trainers to order materials, files for download and licences for simulation workshops. The portal enables trainers to manage their accreditations and enables Indigo to cross-sell other training accreditation workshops the company offers.
We've been working with Revolution Software for a few years now and their work has always been exemplary. I find it valuable to be able to discuss ideas rather than just 'giving orders', helping to make the development process very smooth and time efficient. I'd recommend their services to anyone who needed a functional, stable, and great looking website.