Case study
CONVERGENT SOFTWARE - ONLINE FIELD SERVICE ENGINEER SYSTEM
Convergent Software works with Field Service Engineer companies to manage their projects and mobile workforce. Our bespoke online system removes many manual processes, enabling Convergent's clients to manage their work more efficiently and effectively.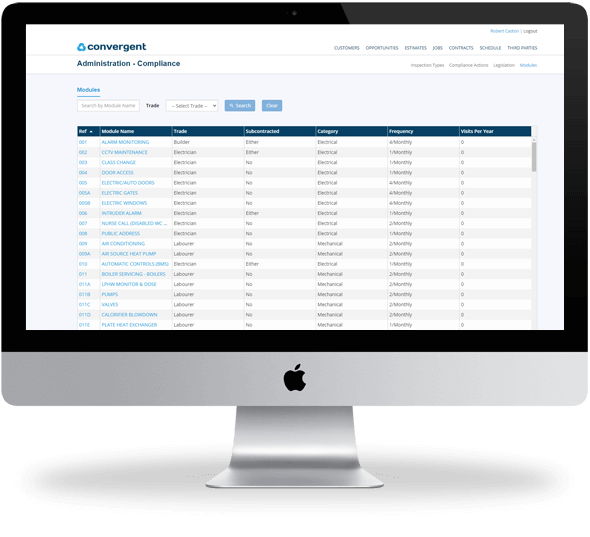 Brief
Convergent approached us to build an online solutions for rollout to its clients, to replace many of the manual, paper-based processes Field Service companies employ. The systems requirements were broad and detailed, covering management of customer records, projects and mobile engineers.
SERVICES
UX Design
System Planning
Systems Development
App Development
Usability Testing
SOLUTION
This was a complex project spanning 12 months in development, requiring planning and advice to deliver the high-level system required.
The system was built in ASP.NET Core, designed to be hosted in the cloud, with multiple client instances.
The system enables users to fully manage all of their project work digitally, from any location. The system manages the whole project lifecycle, from the initial opportunity, to building an estimate, converting to a contract, assigning work to engineers and then invoicing once work is complete. Reactive, planned and compliance-type projects are all accommodated.
Jobs are scheduled on the system, which feeds the details to the engineers' mobile app. Once an engineer is on site, the app will record the actual time spent on the job and any additional work that is required and materials used, enabling accurate billing of the work.
Another key feature of the site is client access – this gives access to specific sections of the system to the end client, enabling end clients to add work opportunities, view estimates for their work and to view when their work will be undertaken. Previously this was a manual, paper-based process and is therefore a huge timesaver.
Key features:
Opportunities and estimates for new projects
Asset details for both clients and engineers
Job tracking from scheduling to invoicing
Scheduling of engineers' time
Mobile app for engineers
Contracts and invoicing
Compliance service reports
Audit trail of projects
Dashboard with alerts for overdue work