Case study
Bridgethorne - bespoke data management system
Bridgethorne retrieve and validate large data sets from numerous retailers. Data is analysed and then detailed reports are made available to clients.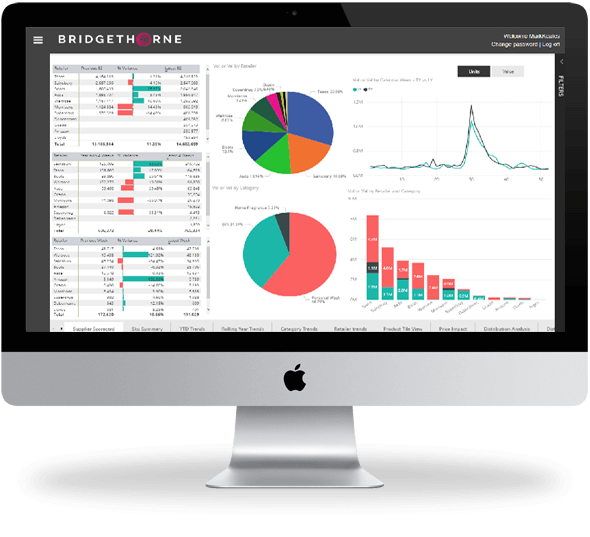 Brief
Bridgethorne had a requirement to automate its process for fetching purchase data from retailer websites, to validate that data, integrating with an analytics service and for a secure web portal for clients to access their reports.
Since this initial project, we have now further automated the process, providing deeper integration and migrating from Omniscope to Microsoft's PowerBI.
Services
Systems analysis
Software development
Application development
Web portal development
Solution
We spent a few days with Bridgethorne at the start of the project to fully understand their requirements, mapping processes and discussing various possible solutions.
Our solution automatically and efficiently fetches data from retailer portal and transforms it into a standardised format, cleaning it and storing it in a database.
The process created integrates with Microsoft's PowerBI, where data is normalised when imported, matching native data with internal data formats to allow multiple products in the raw data to be mapped to a single product in the output.
When then setup a bespoke secure web portal that allows Bridgethorne's clients to access their reports. This includes automatic email notification to clients when new reports are available, as well as the normal security and user management features you would expect.
Our software has automated many of the manual processes that Bridgethorne performed on a weekly basis, offering an end-to-end solution from data retrieval to reporting.
This enables Bridgethorne to spend more of their time doing what they do best - analysing data and delivering value to their clients.
The team at Revolution Software has shown great expertise and ability to understand our requirements, add value and deliver a result beyond expectation. Revolution Software's bespoke software development has enabled us to grow our Retail Analytics EPOS service through automated data capture, data validation and to provide a web portal for our clients to make more informed and insight-driven business decisions.