Case study
Gatwick airport - Text to speech PA system
We were commissioned to developed a tablet-based text-to-speech PA system for Gatwick Airport, to provide consistent and clear messages for airport passengers.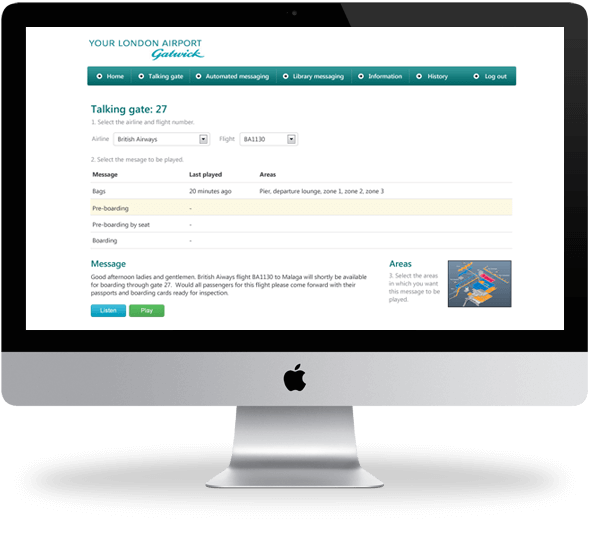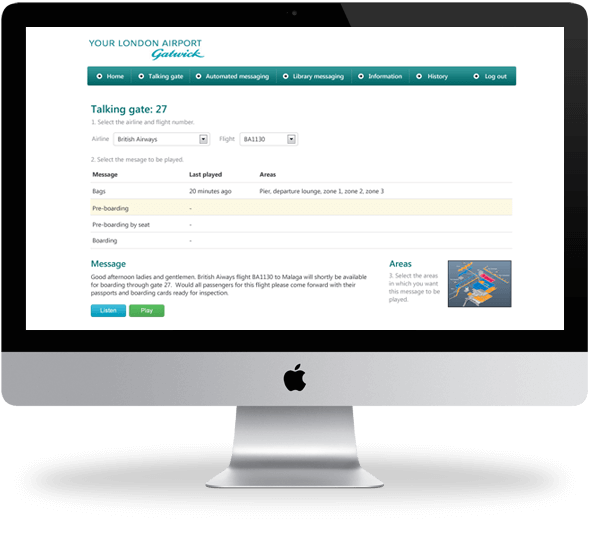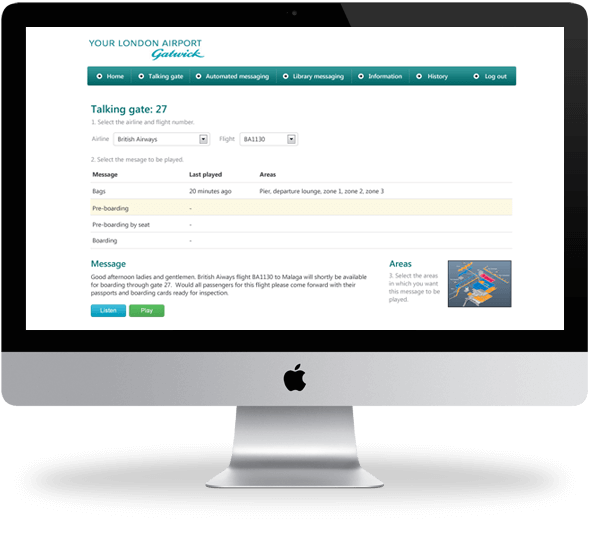 Services
UX Design
Systems Development
Solution
We spent several days with the client at the start of the project to fully understand the requirements, mapping processes and discussing various possible solutions.
We produced detailed wireframes of key pages and functionality to model the main user journeys before adding layers of fidelity to allow us to test the site with real users - with some many airport staff using the system, it was crucial to build something simple and intuitive, that could be accessed by desktop or tablets.
We then built the system, setting up all the functionality such as pre-populated message library, automated messaging, integrating the test-to-speech engine and the real-time translations so that messages can be played in multiple languages and setting up the integration with the airport's PA system.
Security was a key priority for the airport, with the system not accessible from outside the terminals and multiple layers of security for user logins.
The result is a system that is quick and easy for airport staff to use that produces clear and consistent messaging for passengers.
Key functionality
Configurable message library of common announcements.
Message scheduler to broadcast at selected intervals in specific areas.
Text-to-speech system to broadcast completely bespoke messages.
Built-in profanity dictionary of over 10,000 words.
Message history showing what was played where.
Administrator access to create users, manage their access and add to the message library.
Options to change the 'bing bong' announcement sound and announcer's voice.
Announcements in many different languages.
The most advanced automated PA system in any airport in the world.