Franchise Management System
Fully-featured, customisable franchise management system, for managing franchisees, classes, enrolments, coaches and online bookings.
Our Franchise Management System provides a complete end-to-end, automated booking process for users and management solution for franchisees and the franchisor. This is an out-of-the-box solution, that can be customised to suit your exact requirements.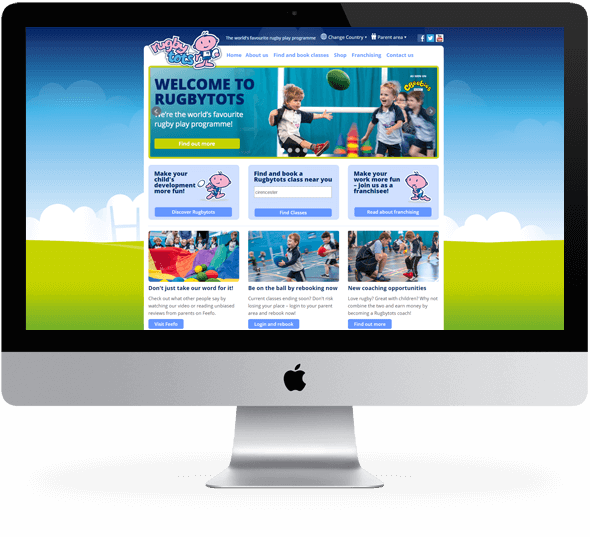 Primarily aimed at franchised, class-based businesses, it enables franchisees to manage their whole business, including locations and classes, coaches, enrolments and waiting lists, discounts and merchandise.
For franchisors, the system offers a complete overview and transparency of all franchisees' operations, orders and transactions, enabling a franchisor to manage their business and measure performance.
For users booking a class, the front-end enrolment process is clear, quick and simple to use, with integrated credit card payment systems.
Used by companies in more than 10 countries world-wide, this is a tried and tested system that will improve productivity and enable you to manage and grow your franchise.
Front-end website
Fully bespoke, responsive design that works across all device types – we'll provide a look and feel consistent with your brand.
Search for classes by postcode or name.
Easy 4-step booking process, enabling enrolment of multiple children or classes.
Enrolment on waiting list and taster sessions when classes are full, so you don't lose bookings.
Parent login area to display enrolments, class timetables, booking links.
Opportunity to buy merchandise.
Franchisees
Management of locations, class, enrolments, waiting lists and taster sessions.
Ability to easily move people between classes.
Management of class discount codes.
Payment online, by phone and manual payments.
Rollovers – when setting up a new term, people enrolled on existing term are automatically 'rolled over' to the new term and marked as unpaid, thereby guaranteeing places for existing clients.
Mass email and SMS functionality for communication with clients.
Opportunity to buy franchisee-only merchandise.
Franchisors
Complete oversight of all franchise areas, including all enrolments and transactions.
Full reporting suite, for transactions, merchandise orders, manual payment made etc.
Management of merchandise and sibling discount codes.
Automatic split of royalty payments.
Coaches and teachers
Separate login area for coaches and teachers.
Display class registers.
Displays unpaid enrolments.
Highlights new attendees so they can be properly welcomed to the class.
Ability to add notes for each attendee.
The system offers the most comprehensive and easy to use franchisee management system available and allows franchisors to focus on building their business rather than day-to-day operations and management of franchisees. From a marketing perspective in selling new franchises, the system is also a fantastic tool and demonstration to potential franchisees of the company's professionalism and vision.
Find out more
For more information and a demonstration, please call Rob Caston on 01285 643 496 or email rob@revolutionsoftware.co.uk.

Alternatively, download our franchise management system brochure.
Working with Revolution Software as our digital partner has been essential to our business growth. We continue to greatly value their ideas, their knowledge and their enthusiasm.
Rugbytots