Case study
Broxton - a new responsive website
Broxton is a leading provider of sheet metalwork and precision machined components.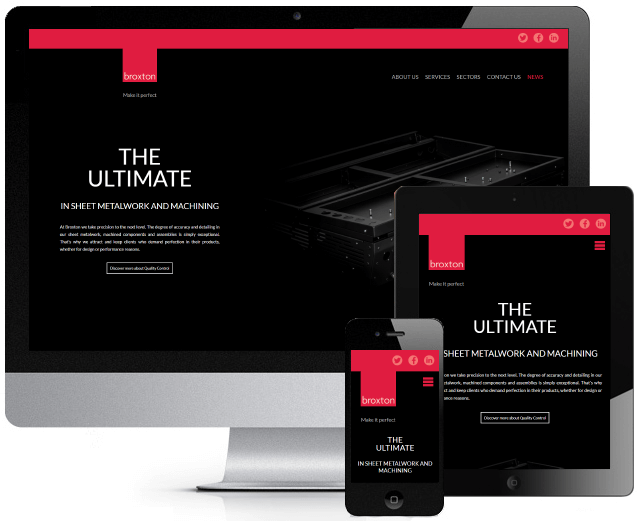 Visit the website
Brief
We were commissioned to design a new responsive website that reflected not only the company, its values and ethos, but also to highlight its capabilities and competence.
Services
Visual Design
Web Development
Solution
We used a fluid layout with carefully placed media queries to allow the design to respond to differing screen widths. Viewed on an iPad in landscape, the placement of content is the same as on a desktop.
On an iPad held in portait orientation, the screen width is reduced. Rather than reducing the size of the font so that we can squeeze in all the content, we used media queries to re-structure the content. The illustrative images which previously flowed down the right hand side of the page now re-flow across the top.
On smaller screens, the viewport is restricted, so we re-arrange the display again and remove some elements – in this case, the size of the main image is reduced and we remove the side images as they're not core content that mobile users with restricted bandwidth need.
In implementing a responsive design, we can ensure that for every possible view - desktop, tablet or smartphone in both landscape or portrait orientation - the website content is displayed for an optimal viewing experience. Visitors don't need to resize the site to read the copy - there's now none of the normal pinch and zoom, regardless of the device.
And this is all done with one website – there's no need to maintain 2 websites, with one for desktops and a cut-down version for mobile devices.
The design process was very quick, with Richard picking up on my wishes from the initial briefing we had straight away. Revolution Software designed for platform compatibility from the outset made some valuable suggestions throughout the design and build. I'm very pleased with end result, with the project delivered on time and in budget. Very good job done, thank you.