Staff Rostering System
Streamline your shift and staff requirements planning with our advanced, customisable staff rostering system.
Our Staff Rostering System enables you to generate schedules that accurately reflect your business resource needs, employee preference and statutory work rules. If you have staff covering external events, our system will ensure you have the right number of correctly qualified people attending the right place, at the right time, to fulfil your requirements.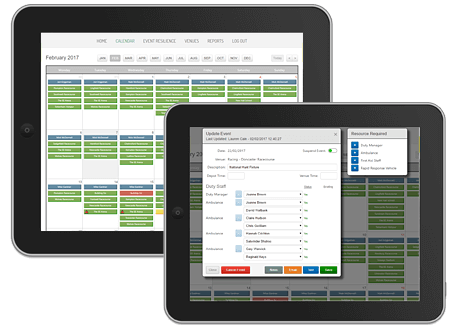 The dashboard view displays a monthly overview of all events or shifts. A traffic light system shows shifts that are fully staffed, shifts where staff have been allocated but are yet to confirm their attendance and shifts where more staff are required. This enables you to quickly respond to any shortfalls in staffing or to changing requirements.
When a staff member is allocated an event or shift, they're automatically sent an email with a link to accept or decline the shift – all responses are recorded in the system. Once accepted, a briefing document is sent prior to the shift and the system enables you to see whether the briefing document has been read. One day prior to the shift, the system sends an automated SMS reminder to all allocated staff to ensure they attend their shift.
Key features
Dashboard view of overall staffing levels per month.
Automated email confirmation and acceptance of shifts.
SMS reminders of upcoming shifts.
Resilience Dashboard with traffic light system detailing shift coverage.
Reporting on staff shift numbers, hours worked, resource allocations amongst others.
Management of locations, staff types, staff members.
Whilst this is an out-of-the-box solution, it can be fully customised to suit your exact requirements.
Revolution Software has done an amazing job supporting Medicare for years and we wholeheartedly recommend them as a one stop solution. A great team of cutting edge talent with a dedication and passion for web development and software implementation.
Medicare